I've been dealing with LiPo batteries for a couple of years now and have always been aware of the fire hazard. I'd never actually seen it first hand until tonight. I just ordered a new quadcopter and it was waiting for me last night when I returned from a three week TDY. It came with a Turnigy 3S 2200mah LiPo battery. I've never actually bought any Turnigy batteries. I've been buying my LiPo batteries from Value Hobby and actually bought two 5000mah 40C 3S batteries from them for the quadcopter. But I was using the Turnigy battery that came with the copter for setting it up and test flying. I charged it at 1C initially. I noticed that it seemed a bit warmer than my other batteries do after the charge, but nothing alarming. I used it to set up the quadcopter and then flew it for about 5 minutes. I brought everything inside and took the battery off the quadcopter. It was barely warm when I was done flying. I set the battery on my kitchen counter and went to do other stuff. About an hour later, I was in my living room and I heard a loud whistle and saw smoke billowing out of the kitchen!!! The LiPo was shooting smoke and flames and sparks everywhere! I grabbed it by the cord and flung it into the metal sink. It still smoked and spewed until all three cells had ruptured and done their thing. My wife was NOT happy. I haven't even been home for 24 hours and I almost burned the house down! HA! In the end, the only damage was to my kitchen counter. It got scorched pretty badly. I'm sure it will cost me a few hundred bucks to fix it. Anybody know how to fix the damage below?
I was kind of sick to my stomach over my complacency with these things. I need to get a safer setup for my LiPo batteries. I have quite a few of them now. I have no idea why this one did what it did. Defective maybe?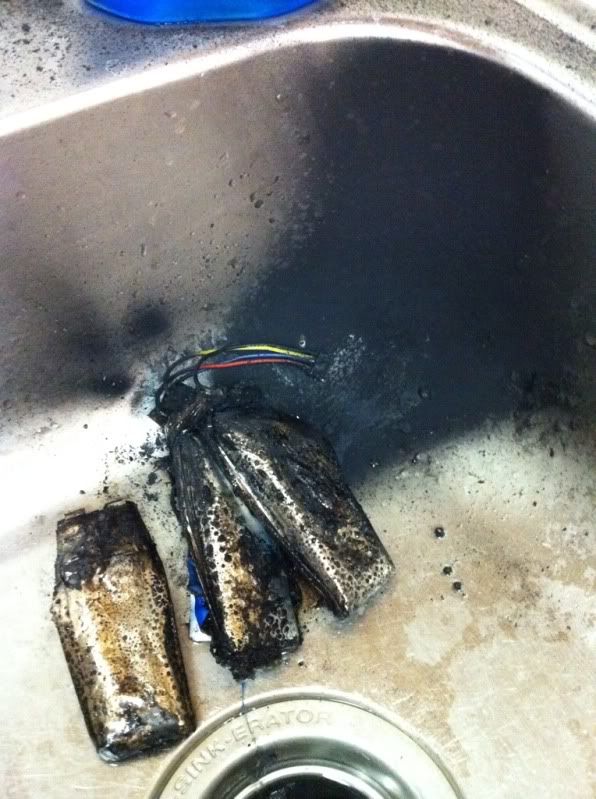 The damage to my kitchen counter in base housing. I'd rather fix it myself than have them charge me an arm and a leg to do it. Thoughts?